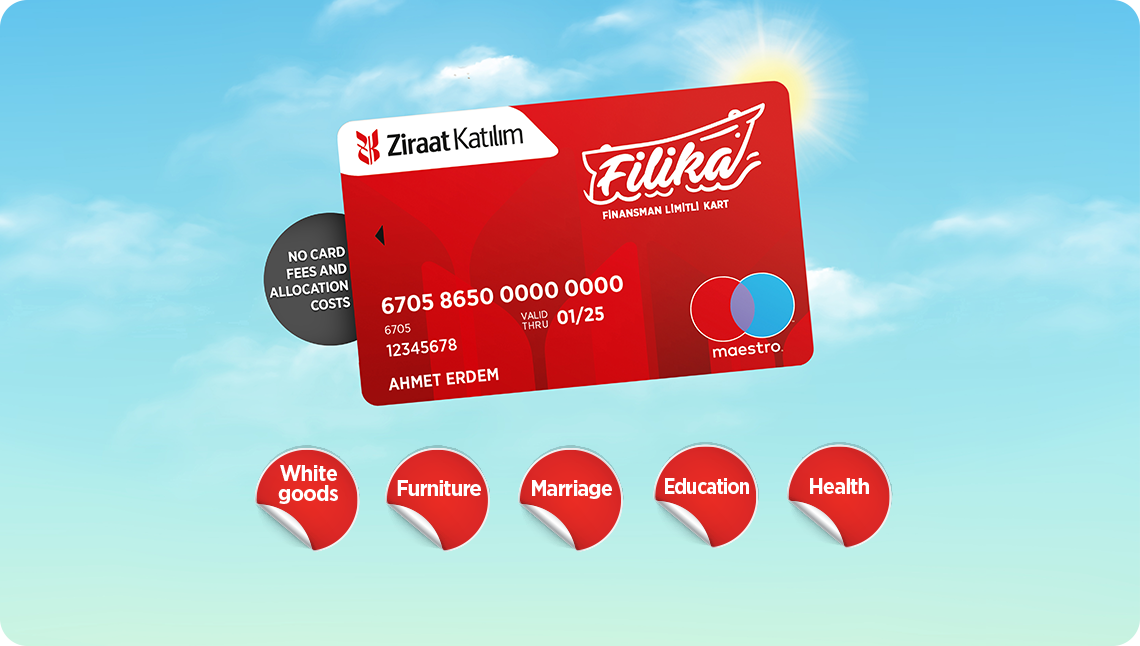 What is FILIKA?
Financing limited card is a personal financing product that helps you to meet your domestic financing needs easily in line with participation banking principles.
Why Should I Use FILIKA?
You can make the payments for the product and/or service you want to purchase in installments by POS without the need for any invoice information.
You can use the limit allocated to your card either for a single use or for multiple spending over 1.000 TL.
You will be able to choose between two different payment dates, 10th or 25th of each month, based on your preference.
FILIKA is closed to all ATM transactions, e-commerce, mail order/tele order, cash withdrawals and international transactions.
Paid amount of limit is not reopened within the usage period.
There is no allocation fee and card fee for FILIKA.
You can satisfy your domestic financing needs without any cash problems thanks to the advantages of cash purchase.
You can easily make your payments thanks to flexible payment schedules provided by Ziraat Katılım.
Channels Through Which FILIKA Application Can Be Made
Documents Required to Receive FILIKA
Identity card, driving license or passport
Income certificate based on the working status of the person
Other documents that may be requested if deemed necessary
What You Wonder About FILIKA
You can access your payment schedule(s) for your FILIKA expenditures through Ziraat Katılım branches, the Internet Branch or the Customer Contact Center, you can pay your installments, or if you wish, you can give an automatic payment order for your installments to be paid. After your application is approved and your card is delivered, you can get your password by calling Ziraat Katılım Customer Contact Center number 0850 220 50 00 and start using your card.
Access Your Accounts At Any Time
You are safe with Ziraat Katılım.