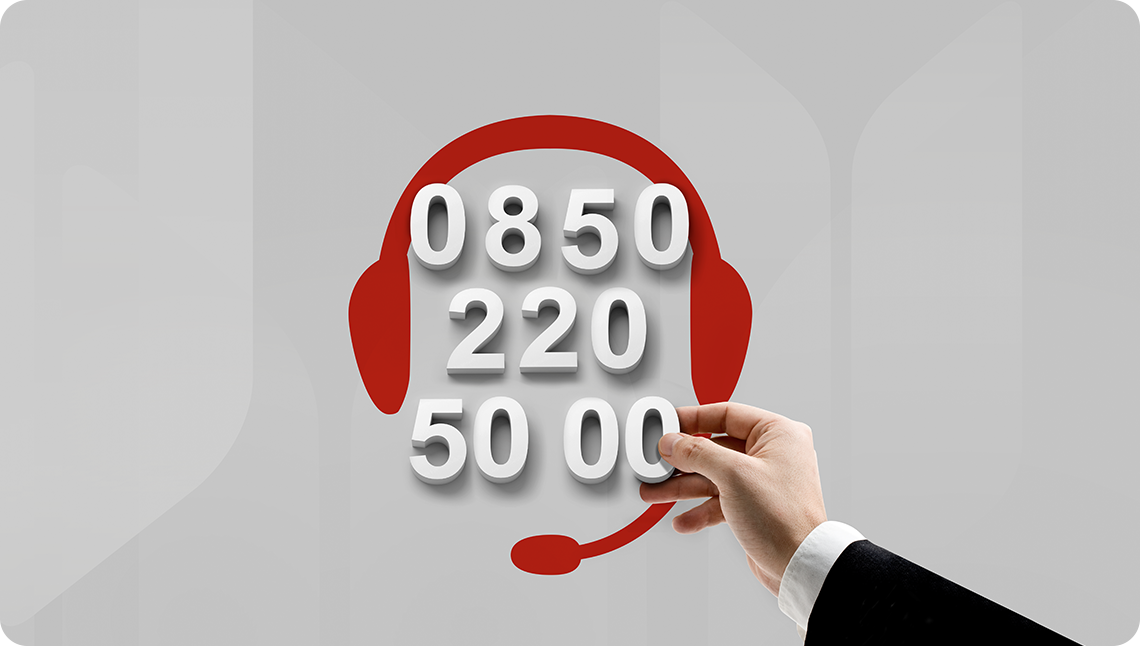 Banking transactions are very easy with Ziraat Katılım Customer Contact Center
You can perform your banking transactions by phone on a 24/7 basis with Ziraat Katılım Bankası Customer Contact Center at 0 850 220 50 00. In order for you to be able to make financial transactions through our Customer Contact Center, you must be a customer of our bank.
Transactions that can be Performed from Customer Contact Center
Account Information
Account Information Tracking
Account Activities Tracking
Account Activities
Current Account Opening
Current Account Closing
Participation Account Opening
Closing a Participation Account
Eft
Eft to Account
Eft to IBAN
EFT to Nam Remittance to Name
Another Bank Credit Card Debt Payment
Remittance
Remittance to Account
Remittance to IBAN
EFT to Nam Remittance to Name
Orders from Account
Regular Payment Entry
Regular Payment Update
Regular Payment Tracking
Foreign Exchange Transfer (Swift)
Foreign Currency Transfer(SWIFT) With Account
Foreign Currency Transfer(SWIFT) With IBAN
Internal Transfer
Foreign Exchange Sale Transactions
Gold Purchase and Sale Transactions
Participation Account Opening Closing
Buy/Sell Mutual Fund
Donations
Order Transactions
Automatic Payment Update / Cancellation
Automatic Payment Tracking
Financing Installment Payment
Giving Debit Card Password
Account Unblocking
Account Blocking
Internet Banking & Mobile Application Pass
Security Transactions
Blocking/Unblocking
Sim Unblocking
Security Restriction Update
At Ziraat Katılım Bankası, we attach importance to your security and follow the latest and advanced precautions for you, and implement the most up-to-date security standards. In order to keep your personal security and confidentiality at the highest level, we would like to remind you, our valued customers, that you should also consider some points:
There may be fraudsters who call you and introduce themselves as lawyers, police, prosecutors, bankers, insurers. Do not believe any person who asks you for any information written on your card, your card's password, your Katılım Mobil or internet branch password, and who wants you to type them and end the call
During your interviews, make sure that you are not monitored or listened to by any suspicious individuals who may be around you.
Do not accept the offer of people who want to help you by giving their own phones.
Frequently Asked Questions
Reach Without Login
You can reach our customer representative on a 24/7 basis via Live Reply channel by logging in to our Katılım Mobil application. You can obtain information about our products and services in writing from our customer representative and send your lost/stolen card notification.
By calling Ziraat Katılım Bankası Customer Contact Center at 0 850 220 50 00, you can perform banking transactions you may perform at our branches in Turkish, Arabic or English over the phone on a 24/7 basis