What is a Car Financing?
Car financing is a type of financing that provides ease of purchasing of new or second hand cars.
Why Should I Use Car Financing?
You can have the car of your dreams with the long-term and low installment options offered by car financing.
It can be used for new and second hand passenger cars.
New and second-hand passenger cars can be financed by 70 percent for the portion of automobile insurance up to 120.000 TL and 50 percent for the portion exceeding 120.000 TL.
The maturity limit for new vehicles in car financing is 60 months for vehicles with a sales value of 120,000 TL and below, and 48 months for vehicles with a higher sales value. For the second hand vehicles, the automobile insurance value is taken into consideration instead of the sales value.
Credit life insurance cost varies depending upon loan amount, maturity, age and loan monthly profit rate.
The cost of the automobile insurance varies from person to person depending upon vehicle condition and history of damage.
Our bank offers life insurance, traffic and automobile insurance products to its customers using car financing.
You can easily make your payments with flexible payment plans.
There are profit share rates suitable for your budget and maturity of up to 60 months.
Channels Through Which A Car Financing Application Can Be Made
Documents Required to Receive Car Financing
Identity card, driving license or passport
Income certificate based on the working status of the person
Proforma invoice of the vehicle subject to financing for new vehicles / copy of the license of vehicle for second-hand vehicles
Other documents that may be requested if deemed necessary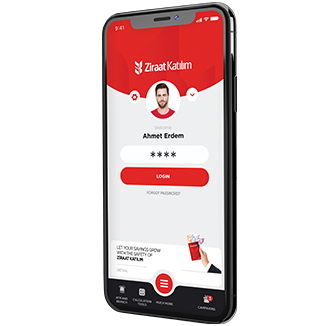 Access Your Accounts At Any Time
You are safe with Ziraat Katılım.